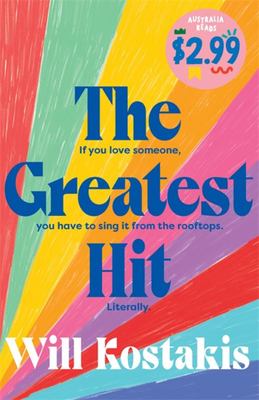 $2.99
AUD
Category: Young Readers
When you love somebody, you have to sing it from the rooftops, literally. But can Tessa reveal the truth behind the viral music video that made her internet-famous? An exclusive story for AUSTRALIA READS. People look at Tessa and see her biggest mistake. While everyone else her age is taking their bold first steps into adulthood, she's just trying to outrun a song that went viral when she was fourteen. But now - an opportunity. A profile as one of The Five Most Forgettable Internet Celebrities of the Decade So Far gives her the chance to right a wrong, and the courage to sing her greatest hit as it was originally written. But will it be enough to win back the person she hurt? An exclusive story for AUSTRALIA READS from one of Australia's leading YA writers. ...Show more
$2.99
AUD
Category: Young Readers
The annual Pharos Trainee Spy Games competition is being held at Alexandria and Kensy and Max can't wait to participate - and win! The challenges include an obstacle course, driving races, extreme parkour, coding and the big one - a treasure hunt, full of danger and intrigue. The prizes for the games ar e legendary, and with only one champion, the twins are forced to go head to head. When the stakes are raised with news of a saboteur in their midst, Kensy and Max must put all their spy skills to the test. Who is the double agent? And which of the trainee spies has what it takes to emerge victorious? A special Kensy and Max story for Australia Reads. ...Show more
$14.99
AUD
Category: Young Readers | Series: Awesome Friendly Kid
Scare yourself silly with Rowley Jefferson's Awesome Friendly Spooky Stories by Jeff Kinney, the #1 international bestselling author of Diary of a Wimpy Kid! Grab a flashlight, crawl under the covers, and dive into the twisted, unexpectedly hilarious world of Rowley Jefferson's imagination. You'll meet zombies, vampires, ghosts, and much more in these comically terrifying tales. Rowley's spooky stories might leave you laughing, but beware-you could end up sleeping with the lights on! And don't miss Rowley Jefferson's first two awesome friendly books, the instant #1 bestsellers Diary of an Awesome Friendly Kid- Rowley Jefferson's Journal and Rowley Jefferson's Awesome Friendly Adventure! ...Show more
$16.99
AUD
Category: Young Readers
Pearl and Vally Cole live in a bookshop. And not just any bookshop. In 1893, Cole's Book Arcade in Melbourne is the grandest bookshop in the world, brimming with every curiosity imaginable. Each day brings fresh delights for the siblings: voice-changing sweets, talking parrots, a new story written just for them by their eccentric father. When Pearl and Vally learn that Pa has risked the Arcade - and himself - in a shocking deal with the mysterious Obscurosmith, the siblings hatch a plan. Soon they are swept into a dangerous game with impossibly high stakes: defeat seven challenges by the stroke of midnight and both the Arcade and their father will be restored. But if they fail Pearl and Vally won't just lose Pa - they'll forget that he and the Arcade ever existed. ...Show more
$17.99
AUD
Category: Young Readers | Series: Jack Heath Comedies Ser.
Levi is pretty sick of starring in Dad's stupid TV show, Kid Kablam. Because Levi is the kid who gets KABLAMMED! So far he's been knocked down, blown up, and attacked by wild animals. And Dad has one more scene planned-the most dangerous stunt so far. Can Levi survive this final stunt without seriously stacking it?   ...Show more
$4.99
AUD
Category: Young Readers | Series: Treehouse
Andy and Terry's 13-storey treehouse is the most amazing treehouse in the world! It's got a bowling alley, a see-through swimming pool, a tank full of man-eating sharks, a giant catapult, a secret underground laboratory and a marshmallow machine that follows you around and shoots marshmallows into your mouth whenever you're hungry.Well, what are you waiting for? Come on up! ...Show more
$14.99
AUD
Category: Young Readers | Series: Wolfe and Lamb
Join Kat Wolfe and her best friend Harper Lamb on the winter holiday of a lifetime in Kat Wolfe on Thin Ice - full of mystery, intrigue, snow and huskies!Kat and Harper can't wait to join their parents on a winter vacation in a mountain cabin in the US. But a series of misadventures result in them being in the wrong place at the wrong time. Alone. When Kat discovers that an argument she witnessed in New York City holds the key to a major crime, she's certain that it's only a matter of time until the culprits come looking for her. With a snow storm moving in and no way out, all that stands between the girls and disaster are a team of eight huskies and one impossible raccoon. ...Show more
$15.99
AUD
Category: Young Readers | Series: E-Boy
Part human. Part robot. All hero!   Last week Ethan was just a teenage kid who was lying in hospital with a brain tumour. That was last week.Now, Ethan has the superhuman power to hack any computer system with his mind, and he and Doctor Penny are in a battle with Gemini, the android healer-turned-deadl y assassin.The Robofight Games might be the perfect cover for their mission. Or they might find themselves in even more trouble...Robot vs human. Country vs country.Who will cheat? And who will win? ...Show more
$14.99
AUD
Category: Young Readers
A fun and exciting story of footy, family, friends and fair play from one of Australia's favourite rugby league players.Twelve-year-old Teddy is woken by his dad in the middle of the night. A freak storm is raging, and there's an emergency at the rugby league fields. They have become a mud-pit, and the Meerkats Rugby League Club is no longer. If Teddy wants to keep playing rugby league, he will need to join his arch rivals - the Camden Rams. Based on James's own footy-playing childhood, Hat-Trick Teddy encourages kids to follow their dreams regardless of the obstacles in their way.James is a hugely popular NRL superstar and a fantastic role model for boys and girls. He completed his PE Teacher degree in 2016, and loves to mentor kids whenever he can.Perfect for fans of David Warner's The Kaboom Kid!, Tim Cahill's Tiny Timmy, Anh Do's Weirdo series and the Treehouse series ...Show more
$15.99
AUD
Category: Young Readers | Series: Ninja Kid
Grandma has invented the COOLEST thing evera GLOVE that can bring toys to life! But when the glove is stolen, Nelson and Kenny have to find a way to get it back... before a CRAZY TOY ARMY takes over the WHOLE TOWN!  
$15.99
AUD
Category: Young Readers | Series: Rise of the Mythix
Enter the Griffin!The Unicorn, Minotaur and Griffin are united at last. Surely together they will be unstoppable! But the evil Collector is not going to give up without an epic fight, and not all the beasts of legend are on the side of good...Will our heroes finally fulfill their destiny? 
$22.99
AUD
Category: Young Readers | Series: Bronte Mettlestone / Kingdoms and Empires
A magical tale of mystery and adventure that proves that sometimes even ordinary middle children can be heroes, from the bestselling author of The Extremely Inconvenient Adventures of Bronte Mettlestone and the award-winning The Slightly Alarming Tale of the Whispering Wars. Long ago, the little Prince of Cloudburst was stolen from the seashore by a Water Sprite. Now, ten years later, the prince has found his way home. The King and Queen are planning the biggest party in their Kingdom's history to welcome him. Meanwhile, on the other side of the Kingdoms and Empires, Esther Mettlestone-Staranise is looking forward to another year at Katherine Valley Boarding School. But she arrives to find a number of strange and unsettling changes. For one, her new teacher is rumoured to be an Ogre. Two mysterious students have joined the school, and one of Esther's classmates is an undercover Spellbinder. Most disturbingly, the mountains surrounding the school - usually a delight of glaciers, teashops, lakes and Faeries - are now crowded with wicked Shadow Mages. As secrets and dangers escalate, Esther must find the answers to several puzzles. Why is her teacher behaving so oddly? Which of Esther's classmates is the Spellbinder, and can they really protect the school from gathering hordes of Shadow Mages? Could the Stolen Prince of Cloudburst be connected? How can Esther - who is not talented like her sisters, nor an adventurer like her cousin, but just Esther - save her family, her school and possibly her entire world? ...Show more