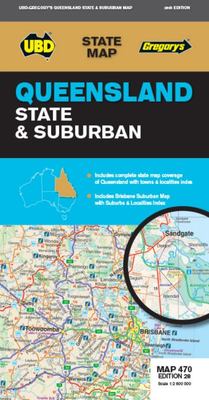 $10.99
AUD
Category: Maps | Series: State Map Ser.
The latest edition of the popular Queensland State and Suburban Map has been fully revised and updated and is an essential tool for those travelling around Queensland and the Brisbane area. It includes: State map of Queensland plus an index to the towns and localities featured. Suburban map coverage of Brisbane city & surrounds north to Caboolture, south to Cedar Vale, along the coast from Sandstone Point in the north to Ormiston and east to Brassall. An index to the towns and localities featured on the suburban map.  ...Show more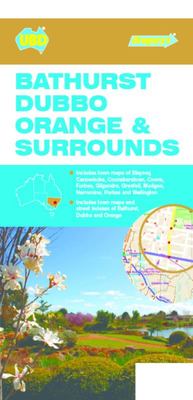 $12.99
AUD
Category: Maps | Series: State Map Ser.
The latest edition of the Victoria state and cities map has been fully revised and updated. It includes a state map at a scale of 1: 975 000 plus an index to towns and localities on one side and on the other side there is street level mapping for the major town centres of Melbourne City, Geelong, Balla rat, Bendigo, Albury Wodonga, Sale, Mildura and Warrnambool plus some handy touring information on discovering Victoria. With all this information contained in this handy fold up map it is an essential tool when touring around Victoria. ...Show more
$7.99
AUD
Category: Maps
National Map Handy pocket size map of Australia  Australia map projection-Lamberts conformal conic at a scale of 1:5 800 000 Features eastern and middle Australia on 1 side (Queensland, New South Wales,'Victoria, Northern Territory, South Australia and Tasmania) and western and middle Australia on the o ther side (Western Australia, Northern Territory and South Australia) Also includes index to cities and towns  ...Show more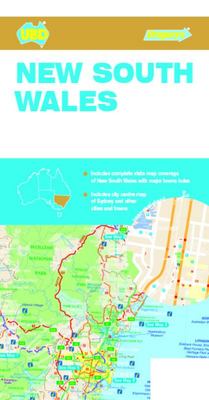 $12.99
AUD
Category: Maps | Series: State Map Ser.
The latest edition of the New South Wales State and Cities Map has been fully revised and updated and includes. State mapping at a scale of 1 : 1 600 000 with an index to major towns featured on one side. Street level mapping for Byron Bay, Gosford, Katoomba, Newcastle, Parramatta, Sydney and  Wollong ong plus regional mapping for the Lower Hunter Valley and Snowy Mountains plus some touring information on the other side. This handy easy to carry fold out map is an essential tool to have with you when travelling through NSW or for anyone wanting to reference NSW roads & towns and have information on the major city centres as well. ...Show more
$12.99
AUD
Category: Maps | Series: Map Ser.
From Lonely Planet, the world's leading travel guide publisher Durable and waterproof, with a handy slipcase and an easy-fold format, Lonely Planet Australia Planning Mapis your conveniently-sized passport to traveling with ease. Get more from your map and your trip with images and information about to p country attractions, itinerary suggestions, a transport guide, planning information, themed lists and practical travel tips. Withthis easy-to-use, full colour navigation tool in your back pocket, you can truly get to the heart of Australia, so begin your journey now! Durable and waterproof Easy-fold format and convenient size Handy slipcase Full colour and easy-to-use Before-you-go info Beautiful imagery Tailored itineraries Can't-miss regional highlights Detailed town index Transport planner Themed lists CoversSydney, Byron Bay, Blue Mountains, Canberra, Melbourne, Goldfields, Great Ocean Road, Murray River, Brisbane, Great Barrier Reef, Whitsundays, The Daintree, Darwin, Kakadu National Park, Uluru-Kata Tjuta National Park, Hobart, Tasmania's Wilderness World Heritage Area, Kangaroo Island, Coober Pedy, South Australia's Wine Regions, Margaret River, Fremantle, Broome Check out Lonely Planet Australia, our most comprehensive guidebook to the country, covering the top sights and most authentic off-beat experiences. Or check out Lonely Planet Best of Australia, a handy-sized guide focused on the can't-miss experiences for a quick trip. About Lonely Planet: Since 1973, Lonely Planet has become the world's leading travel media company with guidebooks to every destination, an award-winning website, mobile and digital travel products, and a dedicated traveller community. Lonely Planet covers must-see spots but also enables curious travellers to get off beaten paths to understand more of the culture of the places in which they find themselves. The world awaits! Lonely Planet guides have won the TripAdvisor Traveler's Choice Award in 2012, 2013, 2014, 2015, and 2016. 'Lonely Planet. It's on everyone's bookshelves; it's in every traveller's hands. It's on mobile phones. It's on the Internet. It's everywhere, and it's telling entire generations of people how to travel the world.' -- Fairfax Media 'Lonely Planet guides are, quite simply, like no other.' - New York Times ...Show more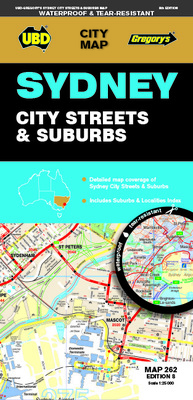 $12.99
AUD
Category: Maps | Series: City Map Ser.
The latest edition of the Sydney City Streets and Suburbs Maphas been fully revised and updated and includes: Coverage at scales of 1:25 000 and 1: 100 000; Sydney City and surrounding suburbs at a scale of 1: 25 000 with coverage along the coast from Dee Why in the north to Malabar in the south; In land from Gordon in the north to Kogarah in the south; North Head in the east and west of the city to Haberfield and Russell Lea; Sydney suburban coverage at a scale of 1:100 000 from Gosford in the north Tahmoor in the south; Springwood in the west, and along the coast from Umina Beach in the north to Coalcliff in the south. An index to suburbs and localities. With all this information contained in this one handy sized fold out map this is an essential tool to have when travelling in and around Sydney. ...Show more
$10.99
AUD
Category: Maps
The latest edition of our Australia Map 149 has been fully revised and updated.   With a map of Australia in a lamberts conformal conic projection plus an index to major towns on one side and then state by state information on attractions & natural the wonders of Australia on the other side. This sh eet map is an essential tool for finding your way around Australia. ...Show more